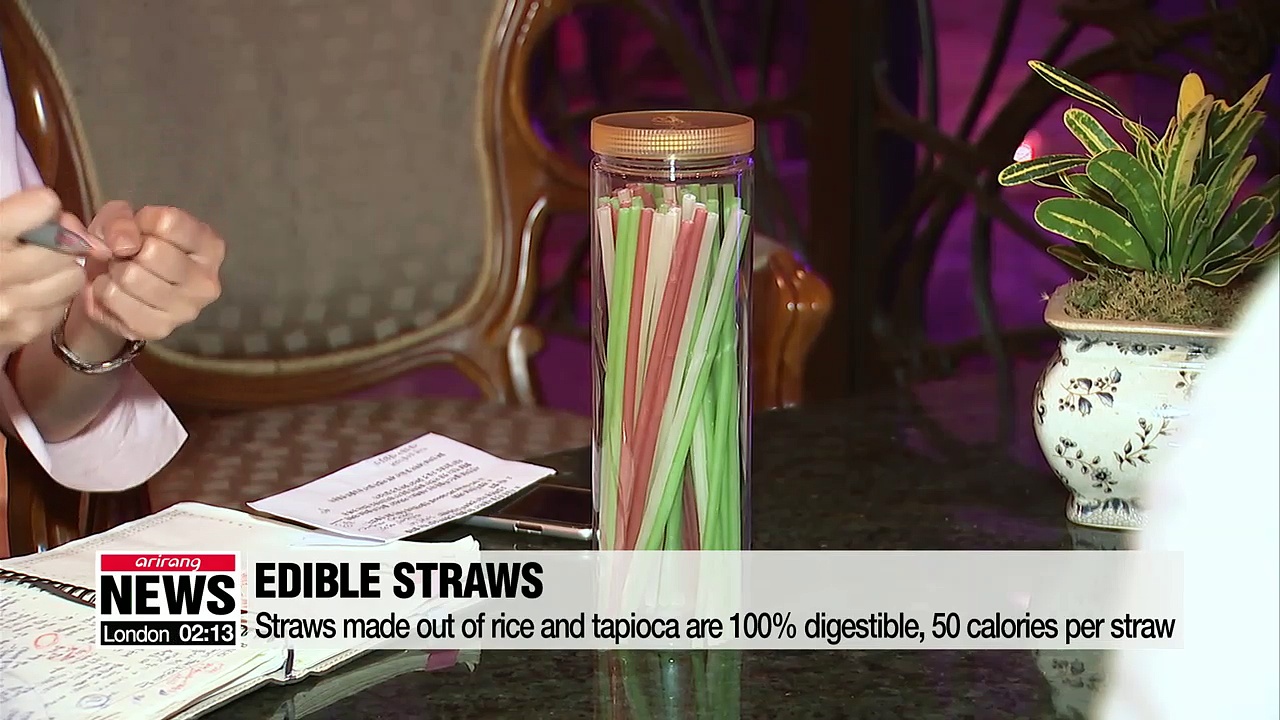 South Korea is kissing goodbye to plastic straws in its bid to go even more green.
Most of the nation's coffee shops and cafes are ditching the plastic in favor of some interesting and eco-friendly alternatives.
Kim Da-mi reports.
With this edible straw, you can enjoy your hot Americano for two to three hours or your favorite iced tea for up to ten hours.
If you'd prefer not to eat the straw after finshing your drink, it will decompose naturally within three months rather than 500 years like plastic ones.
With global initiatives to eliminate and reduce plastic use such as plastic bags and cups, straws of different shapes, forms and sizes are being produced, like these edible ones.
"My goal is to create even more appetizing straws packed with vitamins, red ginseng and Chitosan that can attract older people and more."
Coffee shops in downtown Seoul have already started to go plastic-free.
Drinks and desserts are served only with reusable materials like stainless straws, paper straws and glass cups.
These cafes also encourage customers to think and live eco-friendly by selling stainless straws and of course brushes to clean them.
Korean
"Customers seemed a touch confused initially, but after learning about the environmental reasons for doing it, they now bring their own containers to go."
English
"I don't think it makes a lot of difference to eat in wodden bowl over a plastic bowl."
Franchise businesses are also participating in the campaign.
In addition to Starbucks' goal of banning plastic straws worldwide by 2020, so-called 'Drinking Lids' have replaced regular straws.
Straws made out of rice, bamboo and paper will also be introduced in luxury hotels in Seoul from early September.
But of course, forming new habits and efforts to maintain hygiene are necessary, and experts say doing the dishes may require even more dish soap… a side effect of the change that has its own negative impact on the environment.
Going green can be costly, as these paper straws cost ten times more than plastic ones. But these straws can be the start of greener life and environment.